ASOX9 Natural Male Enhancement:
Scientist Formulated, User Proven.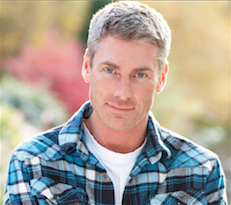 Christopher Gordon
You shouldn't be shy about looking for male enhancement to improve your performance, based on research, losing "libido steam" happens to 8 in 10 men, it happened to me and its completely natural.
We get affected by stress, work, sleep patterns and even anxiety, I've been there. I was working 9 to 12 hour days in a research lab and the work stress started to take a toll on me, at first I thought I was just too tired but then even on my days off I wasn't able to fully get hard. As if that wasn't enough my lack of performance started to take its toll on my relationship with my Fiancé. With stress at work, and now at home, I've had enough, I just had to do something.
This is what drove me to try male enhancement for my self. I tried the "Blue" pill and it worked, it worked wonders, but the next day I had a pulsating headache, and my heart was beating erratically, then it happened again, and again. Now, I consider my self reasonably fit, Jog 3 times a week, so this experience was alarming and I decided to take a more health wise approach and try a natural supplement.
Why I had to create my own formula
I tried a few supplements, but they worked poorly, or didn't work at all. So I began to extensively research every possible natural male enhancement option out there, and as a researcher I was shocked to find the lack of quality available on the market. This is what drove me to create my own supplement.
After researching over a dozen male enhancement supplements I found out many of them use fillers that just sound good on the label, and when combined actually lower the quality of the supplement as a whole.
As it turns out many companies aren't "stuffing" on purpose, they just don't know that some ingredients that work well on their own can and do interact with other ingredients to either spoil them or make the supplement ineffective.
Here is what I mean, the Icariia in Epidium (known by you as Horny Goat Weed) is a an "OK" supplement, and when taken continuously or combined with a few "Select" additives, it does work. Icariia works by inhibiting PDE-5 – which is what leads to the release of nitric oxide and an erection. Now the shocking aspect, which most companies do not know is when Icariia is metabolized it will interact with other similar substances and actually prevent their action on PDE-5, meaning it will lower the potency of the entire supplement and lessen the quality of your Erection.
(Now I say "Ok" supplement because by quantity it is still 66,000 times less effective then the "Blue" pill and you would need to ingest a lot of it, or continuously for any results, this is why I don't even bother to include it in ASox9.)
How do I know this? Well when I studied at Harvard University, one of the most important aspects I learned from my BioChem professor was to always look at the chemical interaction – not just between substrates (the stuff we mix) but how they interact within the biological systems. And this is exactly the issue here, the ingredients many brands use, are indeed good, but when combined and taken together they interact differently when processed by your 1. Digestive System, 2. In your blood stream, and 3. In your liver. This is why if you've tried some male enhancement supplements before and they worked very poorly or didn't work at all – its not you, it's their formula!
Desire behind the Formula
Before I even began developing the ASox9 formula there were three main aspects I wanted it to achieve. I wanted it to:
1. Increase Stiffness
2. Maximize Size
3. Last Longer
And all while using only natural ingredients, no drugs, no nonsense so there are minimal to No side effects. I'm sure like you, Health is very important to me and I wanted ASox9 to be as natural as possible while still being effective.
ASox9 Name
Now before I get any further and tell you all about the ingredients, I'm sure you're wondering why I called it the "ASox9", it probably doesn't sound like anything you've heard before, unless you're a scientist. After I created the formula, tested it, improved it, user tested, and then finalized the most potent and effective form, I began thinking about the name. I thought what would be the epitome of male sexual drive, libido strength, and most importantly being a Man. So I dug deep into my old genetics books and found "Sox9". Well Sox9 is a protein that is coded in the "Y" chromosome, the chromosome that makes us Men, further, Sox9 is the protein that regulates the AMH or anti-mullerian hormone, bottom line Sox9 is the guy that initiates the growth of your male organ. And what better name then Sox9 could I give the supplement? – Advanced-Sox9! (Although the ingredients do not act on your genetics in any way, the name drives home the point of what the supplement stands for)
Ingredients
After long hours researching, testing and trying I've put together the ASox9 Formula here are the main supplement ingredients, for a complete breakdown you can see the entire formula on the formula page.
1. Tongkat Ali extract: - Helps boost sperm quality (There is even new research and patents by MIT for its use in Male sexual dysfunction and infertility)
2. Maca extract: - Focuses on improving your sexual performance by increasing sexual desire (libido), endurance and energy. Research has also show Maca to increase sperm count, and blood flow to the penis. (It has also show to balance blood pressure)
3. L-Arginine: Helps increase blood floow, specifically to the Penis. Although the other extracts in this formula tend to stimulate blood flow to the penis by stimulating release of Nitric Oxide from the pinile veints, L-Arginine is a direct precursor – meaning it turns into Nitric Oxide there by leading to much more dilated blood vessels, increased blood flow to the Penis, and gives you a maximum hard erection. (It also has many positive and healing aspects for the body in general, but I'll stick to only the relevant effects to us now)
4. Ginseng Combination: Ginseng has been found to stimulate the production of testosterone thereby boosting libido, it also helps improve sexual and reproductive balance thereby helps fight premature ejaculation. (Additionally it helps get rid of stress and improve your immune system, but again, I'll stick only to the important effects to us now) Ginseng roots have slight differences in their constituaents depending on regeions they originate from (India, China, etc.) So in order to get the highest potency quality of ginseng extract I've hand picked a combination specifically for the ASox9 formula.
5. Zinc (as Zinc Oxide): One of the main compounds found in Oysters (the well know aphrodisiac), it's been found to help boost testosterone levels, and increase sperm count (while zinc deficiency has been shown to lead to lowered sperm count as well as complete impotence and infertility in some cases)
I've also include additional extracts in smaller amounts, that help maintain, enhance and add to the action of main ingredients Like:
- Oyster Extract (in addition to Zinc) Through research I've found there a lot to their aphrodisiac nature, for example in addition to Zinc they contain amino acids that when extracted and injected into test subjects have lead to increased testosterone production in males.
For a Full ingredient breakdown take a look on the Formula Page.
I understand your frustration and desire to reach your maximum potential, because I was there too! It's a place I never want to go back to. Since I figured out the formula and started taking ASOX9 my relationship drastically transformed as I was able to satisfy my, now, Wife, and that lead me to feel strong, secure, like "The Man". Surprisingly, this attitude transferred over to my work life, I became more confident and assertive, and although my work didn't change, the work stress disappeared it transformed and became irrelevant. That feeling I get when my wife looks at me after, she is completely satisfied, is beyond priceless, this is what I want you to gain.
Don't take my word for it, get it and try for Your Self.
And look, if it really doesn't work for you, just send it back, no questions and I'll send you your money back. (Although I would appreciate you sharing your experience, anonymously, so I can understand if the formula can use any improvements)