ASox9 Formula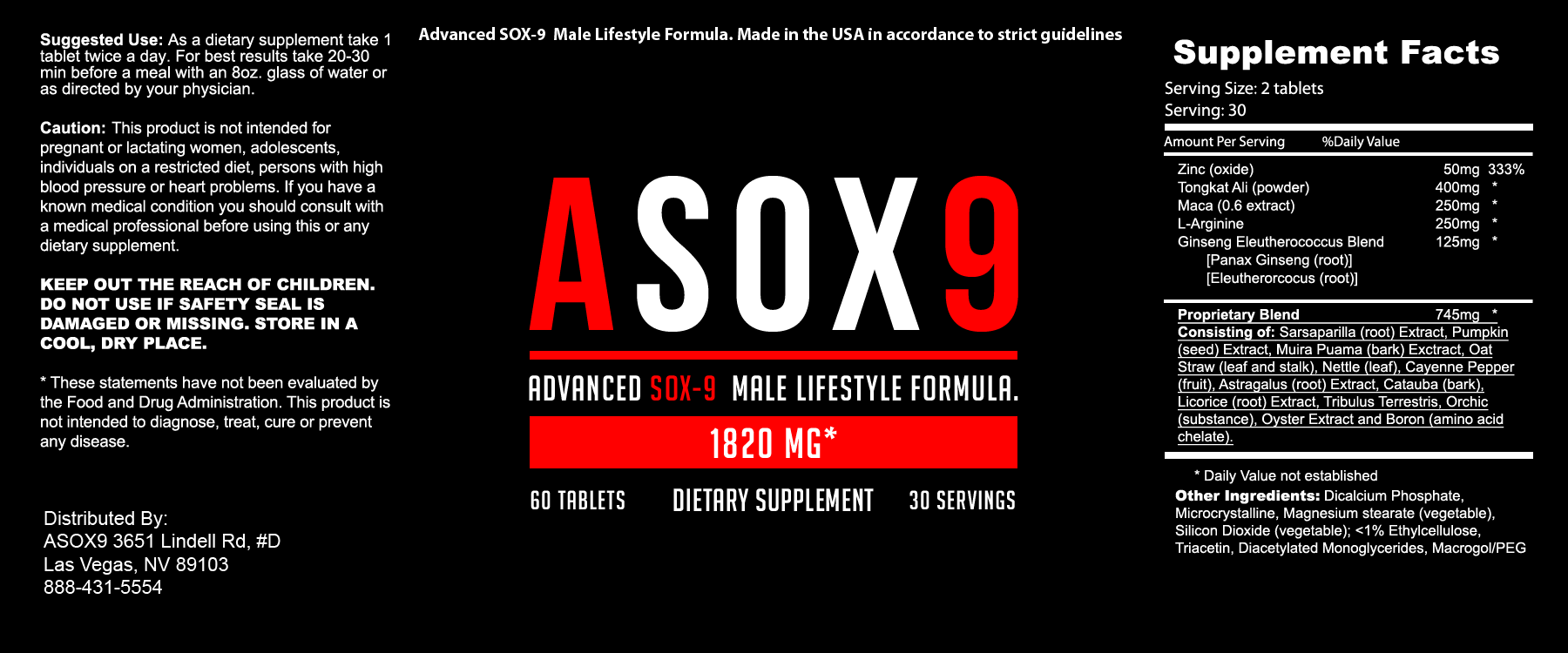 Formula Ingredients
After long hours researching, testing and trying I've put together the ASox9 Formula here are the main, and complete list of supplement ingredients below. You can also see the story behind ASOX9 formula here.
1. Tongkat Ali Extract: - Helps boost sperm quality (There is even new research and patents by MIT for its use in Male sexual dysfunction and infertility). In a study done in 2012, 76 men with low testosterone supplemented with 200 mg of Tongkat Ali extract every day for 30 days. Their average testosterone was 5.66 nanomol/L. After taking Tongkat Ali supplements for a month the subject's testosterone had risen to 8.31 nanomol/L.[1] Average Testosterone levels for men are 6.3 nanomol/L. 400mg is one the key ingredients that makes the ASOX9 Formula so effective.

2. Maca Extract : Focuses on improving your sexual performance by increasing sexual desire (libido), endurance and energy. Research has also show Maca to increase sperm count, and blood flow to the penis.
3. L-Arginine: Helps increase blodfloow, specifically to the penis. Although the other extracts in this formula tend to stimulate blood flow to the penis by stimulating release of Nitric Oxide from the penile veins, L-Arginine is a direct precursor – meaning it turns into Nitric Oxide thereby leading to much more dilated blood vessels, increased blood flow to the penis, and gives you a maximum hard erection. (It also has many positive and healing aspects for the body in general, but I'll stick to only the relevant effects to us now)
4. Ginseng Combination: Ginseng has been found to stimulate the production of testosterone thereby boosting libido, it also helps improve sexual and reproductive balance thereby helps fight premature ejaculation. (Additionally it helps get rid of stress and improve your immune system, but again, I'll stick only to the important effects to us now) Ginseng roots have slight differences in their constituents depending on regions they originate from (India, China, etc.) So in order to get the highest potency quality of ginseng extract I've hand picked a combination specifically for the ASOX9 formula.
5. Zinc (as Zinc Oxide): One of the main compounds found in Oysters (the well known aphrodisiac), it's been found to help boost testosterone levels, and increase sperm count (while zinc deficiency has been shown to lead to lowered sperm count as well as complete impotence and infertility in some cases)
I've also include additional extracts in smaller amounts, that help maintain, enhance and add to the action of main ingredients Like:

Oyster Extract and Boron (Amino Acid) - Great for sperm production, anti-estrogen properties, and for natural testosterone product in your body.  
Sarsaparilla (root) Extract - This herb has been used to increase natural testosterone production, liver and kidney function.

Pumpkin (seed) Extract - It is great for health, liver and prostate function.
Muira Pauma (Bark) Extract - This is a great natural aphrodisiac and really boosts your sex drive.
Oat Straw (leaf and stalk) - Great for blood circulation which is a very important factor in getting and maintaining an erection.
Nettle (Leaf) - This herb has long been considered a natural tonic for prostate issues and male health.
Cayenne Pepper (fruit) - Good for any stomach issues and helps with absorption.
Astragalus (root) Extract - Great herb for overall health and energy.
Catuaba (bark) - Boosts sex drive and heightens sexual arousal.
Licorice (root) Extract - Good for any stomach issues and helps with absorption.
Tribulus Terrestris - Boosts your sex drive and stimulates natural production of testosterone.
Orchic – this extract helps with keeping the testicles healthy in men.
The Formula has been proven by thousand of users who reported excellent results. I credit this to the science behind the formula and the quality of each ingredient used. All the ingredients in ASOX9 are carefully sourced and tested in a 3rd party lab prior to being manufactured into tables. All ASOX9 tablets are manufacture in the USA under strict FDA guideline and Good Manufacturing Practices.